Business News
Request for investigation after Taliban official's visit to Cologne mosque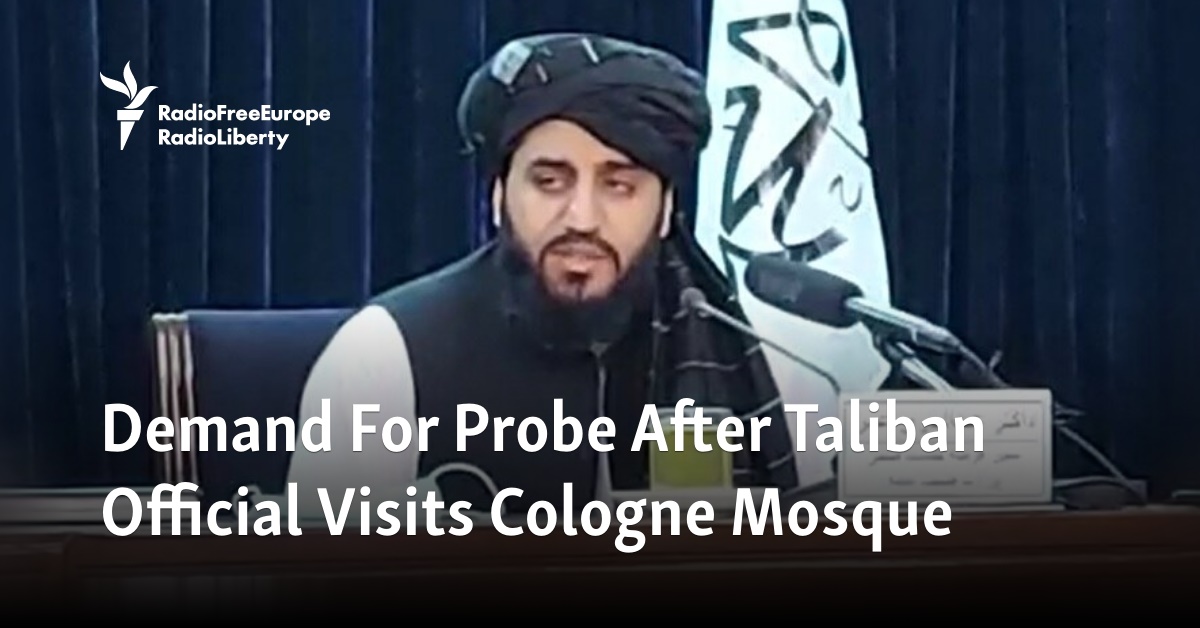 Welcome to the Azadi Briefing, an RFE/RL newsletter that addresses key issues in Afghanistan. To subscribe, click here.
My name is Abubakar Siddique, senior correspondent at RFE/RL's Radio Azadi. Here's what I've been following and what I'm keeping an eye on in the days to come.
The key question
The Afghan Taliban and Pakistan are engaged in an escalating war of words following Islamabad's mass expulsion of Afghan refugees.
Last month, Islamabad ordered 1.7 million undocumented Afghan refugees and migrants to leave the South Asian country or face arrest and forcible deportation after November 1. More than 300,000 Afghans, many wearing only the clothes they were wearing, have since returned to their home country.
Pakistan said its decision was a response to the Taliban's refusal to expel the extremist group Tehrik-e Taliban Pakistan (TTP). Islamabad has accused the Taliban of harboring the TTP, which is waging a deadly insurgency against Pakistan. The TTP maintains close ideological and organizational ties with the Afghan Taliban.
"After the lack of cooperation from the Afghan interim government, Pakistan has decided to take matters into its own hands, and Pakistan's recent actions are neither unexpected nor surprising," Pakistani caretaker Prime Minister Anwar ul-Haq Kakar said. said on November 8.
The Taliban's chief spokesperson, Zabihullah Mujahid, declared on November 8 that the group was not "responsible for maintaining peace in Pakistan."
Last week, Taliban Defense Minister Mullah Mohammad Yaqoob warned Pakistan must "consider the consequences of its actions and sow as much as it can reap."
Amir Khan Muttaqi, the Taliban foreign minister, told the BBC that Islamabad was using mass expulsions to pressure the group into officially recognizing the border with Pakistan, which Afghanistan rejects.
Why it's important: The war of words has highlighted escalating tensions between the Taliban and Pakistan, long-time allies who appear to have fallen out.
The two sides appear to be on a collision course, and there is no sign that they can iron out their growing differences.
There have been several rounds of deadly clashes between Pakistani and Taliban forces in recent months, leading Islamabad to close the border.
And after: It seems likely that Pakistan and the Taliban will remain on a path of confrontation. As their interests clash, Islamabad and the Taliban will likely continue to view each other as adversaries.
At the same time, Pakistan's continued mass expulsions of Afghans risk worsening Afghanistan's devastating humanitarian crisis, the largest in the world.
What to watch out for
The Islamic State-Khorasan (IS-K) extremist group claimed responsibility for the latest attack. attack targeting Afghanistan's Shiite Hazara minority.
On November 7, at least seven people were killed and 20 others injured in a bomb attack on a bus in the predominantly Shia neighborhood of Dasht-e Barchi in Kabul.
"The situation was terrible," an eyewitness told RFE/RL. Radio Azadi. "I think the losses were high."
This is the third attack by IS-K against the Shiite community in recent weeks. On October 26, a bomb attack killed four people at a sports club in Dasht-e Barchi. In the deadliest attack, at least 25 worshipers were killed when a bomb targeted a mosque in the town of Pul-e Khumri on October 13.
Why it matterst: The Taliban are committed to protecting Afghanistan's religious minorities. But the Shiite community accused the Taliban of failing to prevent deadly attacks against the Hazara.
The new wave of IS-K attacks has also raised questions about the Taliban's claims that they have seriously weakened the extremist group, which once controlled rural territories in eastern Afghanistan.
That's it for me for now. Don't forget to send me your questions, comments or advice. You can always reach us at azadi.english@rferl.org.
Till next time,
Abubakar Siddique
If you enjoyed this briefing and don't want to miss the next edition, subscribe here. It will be delivered to your inbox every Friday.
The Azadi Briefing will be published on December 1st.