Business News
Putin to attend virtual G20 meeting on November 22 after skipping live summit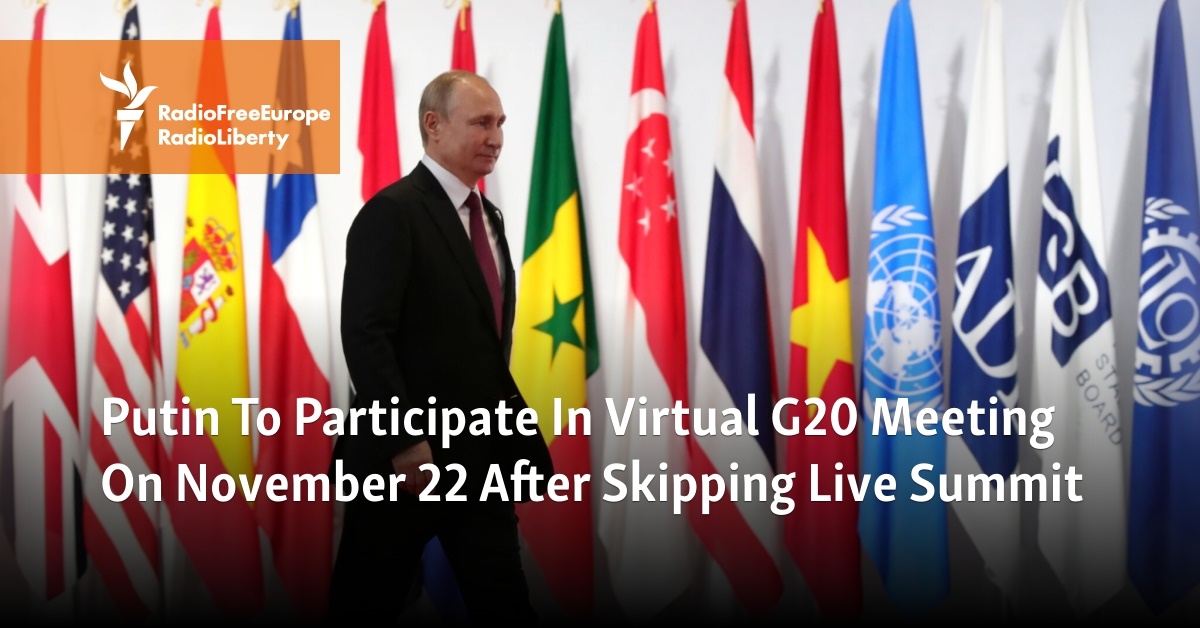 Armenian Prime Minister Nikol Pashinian said that although Yerevan and Baku have agreed on the basic principles of a peace treaty, the two sides "still speak different diplomatic languages" during negotiations.
Addressing the autumn session of the Parliamentary Assembly of the Organization for Security and Cooperation in Europe (OSCE), which opened in Yerevan on November 18, Pashinian deplored that Azerbaijan has not yet publicly committed to three principles for achieving peace which he says have already been agreed upon.
Pashinian also said that the lack of engagement deepens the atmosphere of distrust and that the rhetoric of Azerbaijani officials leaves open the prospect of further "military aggression" against Armenia.
"Yerevan and Baku still speak different diplomatic languages," he said, adding that "we often don't understand each other."
Pashinian and Azerbaijani Presidents Ilham Aliyev had held several rounds of EU-mediated peace talks before Baku launched a lightning offensive in Nagorno-Karabakh that ended three decades of rule by ethnic Armenians in the territory disputed.
Armenia and Azerbaijan have fought two wars in the past three decades over the region, which has been a predominantly ethnically Armenian enclave since the collapse of the Soviet Union and is internationally recognized as Azerbaijani territory.
The region initially came under the control of ethnic Armenian forces, supported by the Armenian army, during separatist fighting that ended in 1994.
However, in a war in 2020, Azerbaijan retook parts of Nagorno-Karabakh as well as surrounding territories that Armenian forces had claimed in the previous conflict.
After a ceasefire agreement was quickly reached between ethnic Armenian forces and Azerbaijan following the Baku offensive in September, nearly 100,000 ethnic Armenians fled to Armenia while that Baku was taking control of all of Nagorno-Karabakh.
"We have good and bad news regarding the peace process between Armenia and Azerbaijan," Pashinian was quoted as saying.
"It is a good thing that the basic principles of peace with Azerbaijan have been agreed," he said, referring to the three peace principles he announced at the end of October and which had been developed during negotiations with Aliyev in Brussels. publicized by the President of the European Council Charles Michel.
These principles, he told the Armenian parliament at the time, were: Armenia and Azerbaijan mutually recognize each other's territorial integrity, that the delimitation of the countries' borders be based on the Alma-Ata Declaration of 1991 and that regional trade, transport and communications be open while respecting sovereign jurisdictions.
The downside is that by not recognizing the agreement, Pashinian said, Baku is only worsening the climate of mistrust.
Pashinian also accused Azerbaijani officials of calling Armenia "West Azerbaijan."
"This seems to us to be a preparation for a new war, a new military aggression against Armenia, and this is one of the main obstacles to the progress of the peace process," Pashinian said.
The Armenian prime minister's comments come after Baku said on November 16 that it would not participate in foreign minister-level normalization talks with Yerevan, scheduled for this month in the United States.
Azerbaijan's Foreign Ministry said the move was a response to what it called "one-sided and one-sided remarks" made by US Assistant Secretary of State for European and Eurasian Affairs James O'Brien at the against Azerbaijan.
In September, Baku withdrew from two meetings planned by the European Union. The same month, Aliyev refused to participate in a series of negotiations with Pashinian that were to be brokered by French President Emmanuel Macron, German Chancellor Olaf Scholz and the EU's Michel.
Baku cited France's alleged "biased position" towards Azerbaijan as the reason why negotiations in Spain were ignored.
At the session of the OSCE Parliamentary Assembly in Yerevan on November 17, the Speaker of the Armenian Parliament, Alen Simonian, said that there was a problem. historic opportunity to establish peace between Armenia and Azerbaijan.
Simonian also said that Armenia sincerely wants to normalize relations with Turkey, open its borders and transport links in the region and engage in negotiations without preconditions.
"I have great hope that these negotiations will achieve the desired results in the near future," Simonian said, stressing that the region needs peace.
On November 17, the President of the OSCE Parliamentary Assembly, Pia Kauma welcomed Armenia has expressed interest in reaching an agreement with Azerbaijan.
"It is important to maintain the momentum of the peace process and allow Armenia and Azerbaijan to reach a comprehensive settlement," Kauma said. "We recognize that the context is very painful, but despite the difficulties, this moment must be seen as an opportunity for all to chart a new path for the region, based on peaceful coexistence, mutual security and economic prosperity. »