Health News
Opium cultivation declines by 95% in Afghanistan, UN survey finds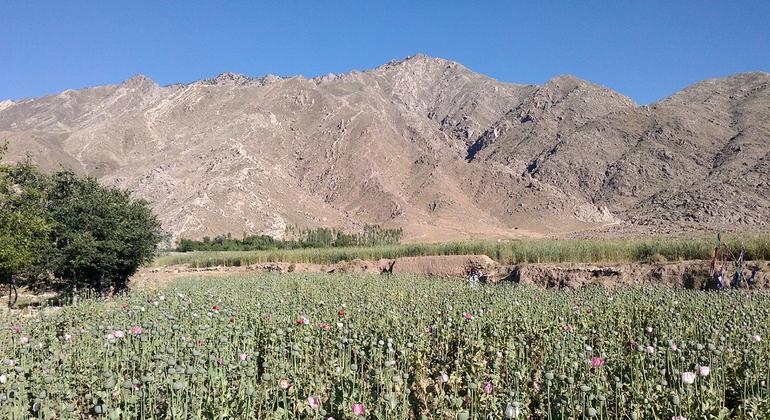 According to the Afghanistan Opium Survey 2023, released by the agency on Sunday, the supply of opium has decreased by around 95%, from 6,200 tonnes in 2022 to 333 tonnes in 2023, corresponding to a drop in the cultivated area, falling from 233,000 hectares to only 10,800 hectares over the same period.
The near-total contraction of the opiate economy is expected to have far-reaching consequences, UNODC said, highlighting the urgent need for alternative development support for rural communities to build an opium-free future for the Afghan people.
"This represents a real opportunity to achieve long-term results against the illicit opium market and the damage it causes both locally and globally," said Ghada Waly, Executive Director of UNODC.
"At the same time, there are significant consequences and risks that must be considered to achieve an ultimately positive and lasting outcome, particularly for the Afghan people," she added.
Humanitarian consequences
The inquiry noted that this sharp reduction had immediate humanitarian consequences for many vulnerable rural communities who depended on income from opium cultivation.
Farmers' income from selling opium harvested in 2023 to traders fell by more than 92%, from an estimated $1,360 million for the 2022 harvest to $110 million in 2023, adds investigation.
"Today, the Afghan people need urgent humanitarian assistance to meet their most immediate needs, to absorb the shock of loss of income and to save lives," said Ms. Waly, noting that at Over the coming months, the country will need significant investments in sustainable livelihoods. , to provide farmers with opportunities outside of opium.
Limited treatment options
UNODC also highlighted that although levels of opioid consumption are high in Afghanistan, evidence-based treatment options remain limited.
It calls for the integration of evidence-based treatment into public health measures and assistance, including to prevent people with opioid use disorders from turning to opioids. potentially even more harmful.
Beyond Afghanistan
Beyond Afghanistan, a reduction in heroin trafficking and use could lead to a reduction in trafficking and use, or could encourage the emergence of harmful alternatives, such as fentanyl and other synthetic opioids, UNODC warned.
Seizure data indicates that traders are selling off their opium stocks from past record harvests to cover the 2023 deficit, while heroin processing has declined.
However, trafficking of other drugs, including methamphetamine, has increased in the region.