Sports News
'Not OK': America collapses because of a journalist's secondary act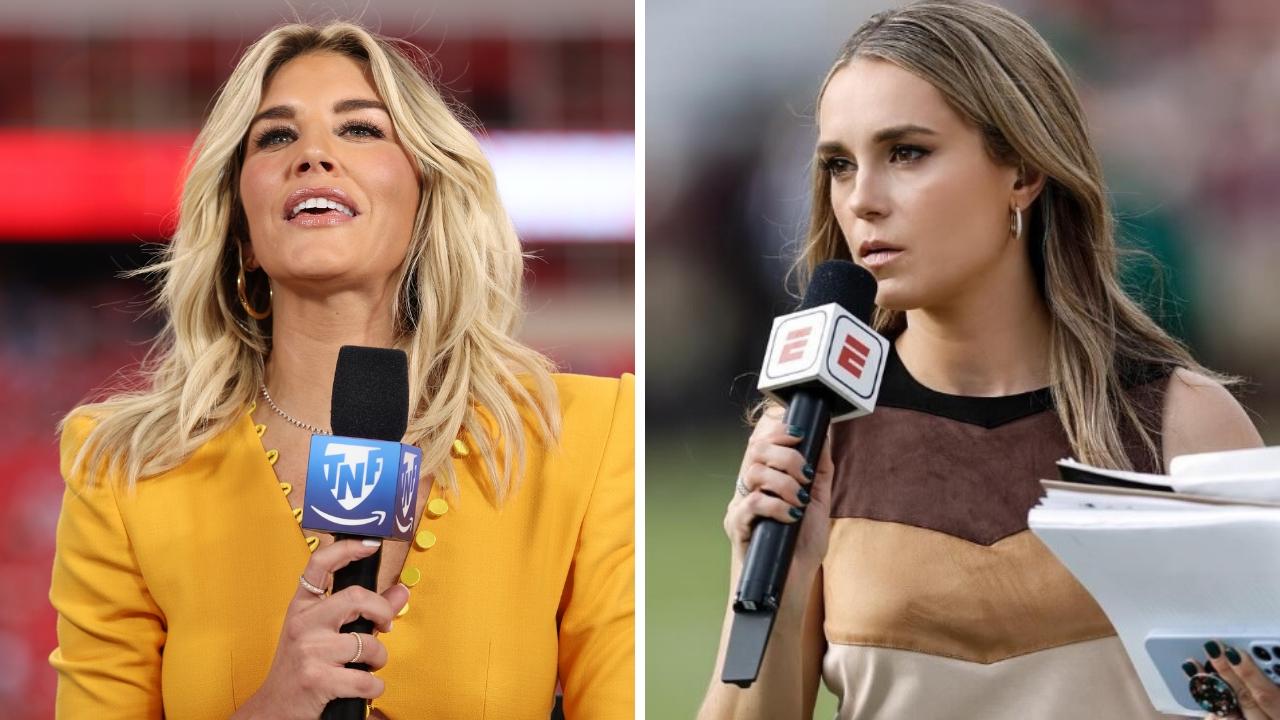 Charissa Thompson's shocking admission that she fabricated sideline reporting has sparked outrage across America.
The Fox Sports Saturday (AEDT) host responded to the backlash for the first time – after dropping the bomb on her previous sideline reporting work on Thursday.
As reported The New York PostThompson's comments were not well received by those in the sports media field, particularly those currently in a sideline reporting role.
Thompson was on the most recent edition of the "Pardon My Take" podcast when she revealed to hosts Dan Katz and PFT Commenter that she would make up her reports if a coach left the locker room late or withheld information.
The clip of Thompson's comments created a storm of criticism with several sports media figures criticizing her for her flippant admission.
"Young journalists: This is neither normal nor ethical," wrote ESPN college football reporter Molly McGrath in a scathing response on X, formerly known as Twitter.
"Coaches and players trust us with sensitive information, and if they know you are dishonest and don't take your role seriously, you have lost all trust and credibility."
Former NBC sideline reporter Michele Tafoya also expressed disappointment in Thompson.
"Honestly this makes me sad," Tafoya posted on X.
"Charissa is a nice person, but this is a professional fraud. If a coach doesn't talk to you at halftime, say so. And if there's no report, then you just don't file a report at halftime. It's quite simple. journalistic integrity is paramount.
ESPN college football reporter Morgan Uber also called out Thompson for his comments and claimed that by doing so, Thompson only gave credence to the stereotype that sideline reporters are just "candy for the eyes ".
"Good journalists do their homework, talk to players and coaches throughout the week and on game day and certainly don't make up stories. Period. There is still journalism involved, despite what you think," Uber wrote on X.
In the full interview, Thompson explained the lengths reporters go to prepare for a game every week.
She added that the return on investment for the amount of work that has to be done for the job and what ends up on the air is part of why she no longer puts reporting aside.
CBS NFL and NCAA basketball reporter Tracy Wolfson joined the criticism.
"This is absolutely not okay, it is not the norm and it is upsetting in so many ways," Wolfson wrote on X. "I take my job very seriously, I hold myself accountable for everything that I say, I build trust with the coaches and I never make anything up." . I know my fellow journalists do the same.
In an article on X, Tulane football reporter Maddy Hudak asked why there wouldn't be an analysis of the game instead of just writing a report.
"Have we considered providing football analysis instead? Hudak wrote. "How is the LOS battle won/lost by initial speed? UOH in the pass rush, the press box can't see? Don't set women back by making up bullshit?
Thompson didn't seem immune to criticism, even from his own network.
She's now the host of Fox Sports' "Fox NFL Kickoff" and Amazon's in-studio coverage of "Thursday Night Football," but that hasn't stopped NFL on Fox's Laura Okmin from commenting on the topic.
"THE privilege of a secondary role is being the only person in the world who has the opportunity to ask the coaches what is happening at that moment," Okmin wrote on X. "I cannot express the time it takes to build that. trust. Devastated by the texts I get asking if everything is okay. No never."
Thompson has had some come to his defense, including former NFL Network host Rachel Bonnetta.
Bonnetta criticized McGrath's response and suggested that she had not listened to the entire interview.
"To young journalists: support other women in the industry because at the end of the day, we are the only ones who support each other. CT is a pro. Period," she wrote on X.
Thompson has not publicly responded to backlash over his comments.
Thompson Saturday moved to clarify his explosive comments.
"Okay, let's talk about the elephant in the room," Thompson wrote on Instagram.
"I have a responsibility to myself and to my employers to clarify what is being reported. During a podcast this week, I said I would report early in my career when I worked as a sideline reporter before transitioning to my current hosting role.
"Working in the media, I understand the importance of words and I chose the wrong words to describe the situation. I'm sorry. I have never lied about anything or been unethical during my career as a sports broadcaster.
"In the absence of a coach providing information that would advance my report, I would use the information I learned and saw in the first half to create my report.
"I have nothing but respect for sideline journalists and the tireless work they do behind the scenes and on the ground," she continued.
"I am nothing but grateful and honored to work alongside some of the best in the business and consider them some of my best friends."
– with New York Post