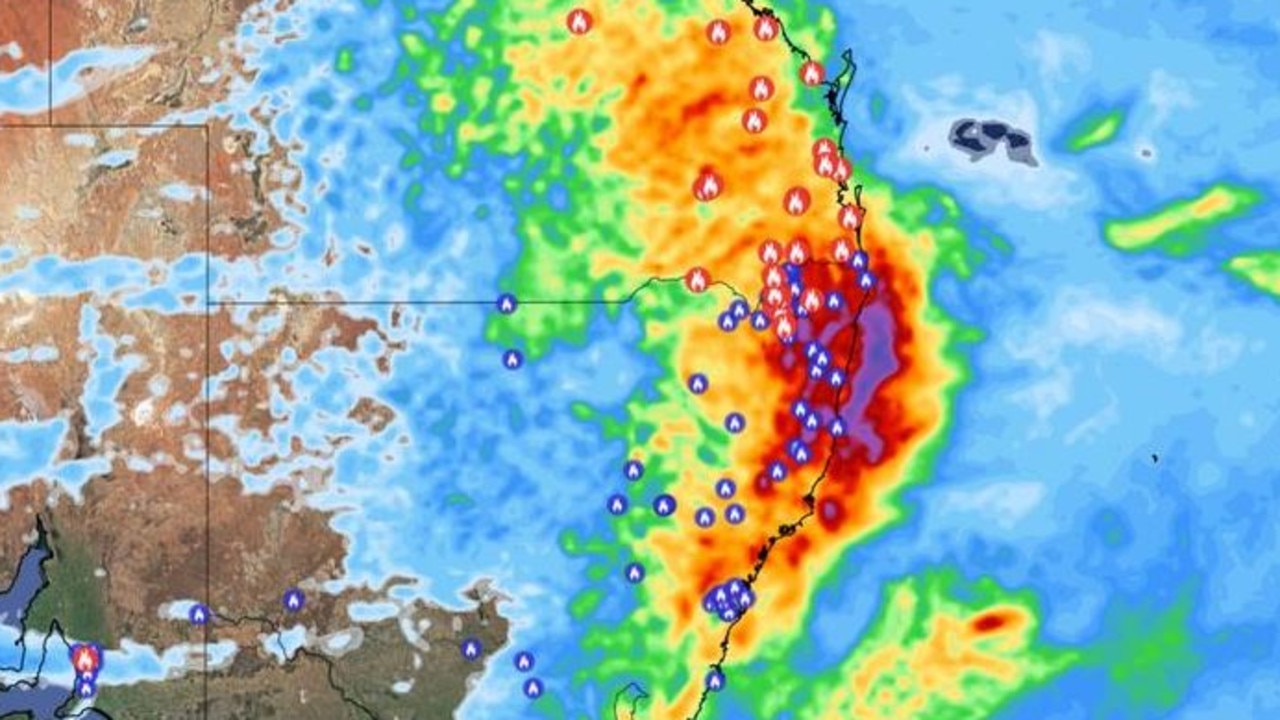 Rainfall has begun to soak fire-ravaged areas on the east coast, marking the start of a wet weekend for residents of New South Wales and Queensland.
A series of rainy and stormy days are expected to flood parts of New South Wales and Queensland starting this weekend, with up to 10 days of rain forecast in some areas.
About 20mm of rain fell on Friday afternoon near Tenterfield – on the NSW-Queensland border – where a number of large fires were burning.
However, the storms are not all good news for firefighting efforts, with the NSW RFS urging residents to check their properties for further fires after dozens of lightning strikes were detected near Tenterfield on Friday afternoon.
Just north of the border, around 27mm of rainfall was recorded in the Wallangarra area where firefighters are still battling two fires.
At one point, at least 80 fires were burning across New South Wales and Queensland, with several evacuation orders issued and dozens of properties destroyed.
A number of active fire hotspots in northern New South Wales and southern Queensland are expected to experience rain this weekend.
Cooler, wetter easterly winds will also contribute to better firefighting conditions and hopefully help put out stubborn fires.
Rainfall of between 20mm and 40mm is expected to fall across central and northern New South Wales and south-east and central Queensland.
Some models run by WeatherZone suggest up to 100mm could fall before next Friday in northern NSW.
Thunderstorms could become daily during this period of wet weather, with the potential for severe weather.
An increased risk of flash flooding has been reported by forecasters.
Here is the weather forecast in each capital this weekend.
Perth
By Saturday, the sky will clear and the temperature will rise another degree to reach 37°C.
The heat will ease by Sunday but will remain warm with a maximum of 28°C.
Darwin
The northernmost capital will benefit from days with a maximum of 35°C this weekend.
Clear and sunny conditions are forecast through Sunday with a slight chance of rain.
Adelaide
The sun will come out this weekend, raising the temperature to 25°C on Sunday.
Melbourne
Residents in the capital of Victoria will be spared the downpours expected to hit other east coast states this weekend.
However, they will not reach the same warm temperatures as those in the western states of the country.
A high of 18°C ​​is forecast for Saturday and a little warmer on Sunday with a high of 23°C.
Hobart
A 40 percent chance of showers is forecast for Saturday with a maximum of 15°C.
The rain is expected to ease on Sunday with cloudy skies and a minimum temperature of 7°C.
Sydney
Showers will move into Sydney this weekend, with up to 30mm forecast for the city before Sunday.
A maximum temperature of 25°C will be the hottest part of the weekend.
Canberra
Showers are expected in the national capital on Saturday.
We expect the rain to clear by Sunday, although temperatures will remain cool, with a high of 20°C.
Brisbane
Showers are forecast in Brisbane for next week, although temperatures will remain reasonably warm.
A maximum temperature of 26°C will arrive on Saturday.
The most rain is expected to fall on Sunday with up to 20mm forecast.