Health News
Humanitarians step up response to deadly cholera outbreak in Sudan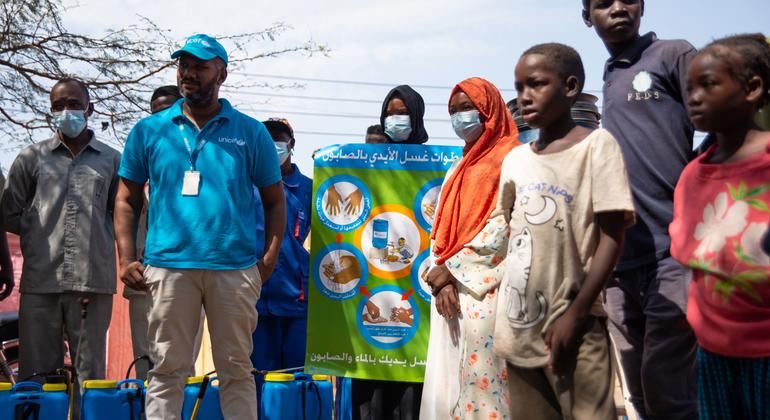 UN agencies and partners are stepping up their response to the outbreak, which was first declared in the eastern state of Gedaref on September 26.
At least 2,525 suspected cases of acute watery diarrhea/cholera have been reported, including 78 associated deaths, from 27 localities in seven states.
Millions of people in danger
More than 3.1 million people are estimated to be at risk by the end of the year, according to the latest OCHA update.
Humanitarian agencies are supporting case detection and treatment, while surveillance is ongoing in affected and high-risk areas to identify and address risk factors.
Last week, the sixth flight chartered by the United Nations health agency WHO landed in Port Sudan, located on the Red Sea coast, from its global logistics center in Dubai.
The aircraft delivered more than 33 tonnes of supplies for the fight against cholera, including medicines, laboratory supplies and equipment, and reproductive health kits for the United Nations Population Fund (UNFPA).
Vaccines on the way
Furthermore, the international mechanism that manages and coordinates the emergency supply of vaccines approved the authorities' request for nearly three million doses of oral cholera vaccines which will be used in campaigns in nine localities of Gedaref and in two other states.
They are expected to arrive on November 20 and vaccination campaigns should begin by the end of the month.
The conflict still rages
The cholera outbreak comes against the backdrop of a conflict that broke out in mid-April between the Sudanese army and a rival paramilitary group known as the Rapid Support Forces (RSF).
More than six million people have fled their homes, including 1.2 million crossing the border.
The UN refugee agency UNHCR recently warned that reports of continued sexual violence, torture, killings and other violations in West Darfur echo atrocities committed 20 years ago.
Healthcare under pressure
The conflict is "putting strain on the health system," WHO Director-General Tedros Adhanom Ghebreyesus said Monday on the X social media platform.
"As violence escalates in Darfur, many people are fleeing to Chad in search of safety, further straining an already fragile nation," he wrote.
Although WHO is "actively coordinating with partners to establish mobile clinics, improve surveillance and distribute essential medicines and supplies," Tedros said efforts are hampered by "the difficult security situation, as well as obstacles bureaucratic and administrative constraints that hinder access.
He called on the international community to focus its attention on Sudan and its urgent needs.