Business News
Human rights group says Iranian security forces 'intentionally' shot protesters in the eyes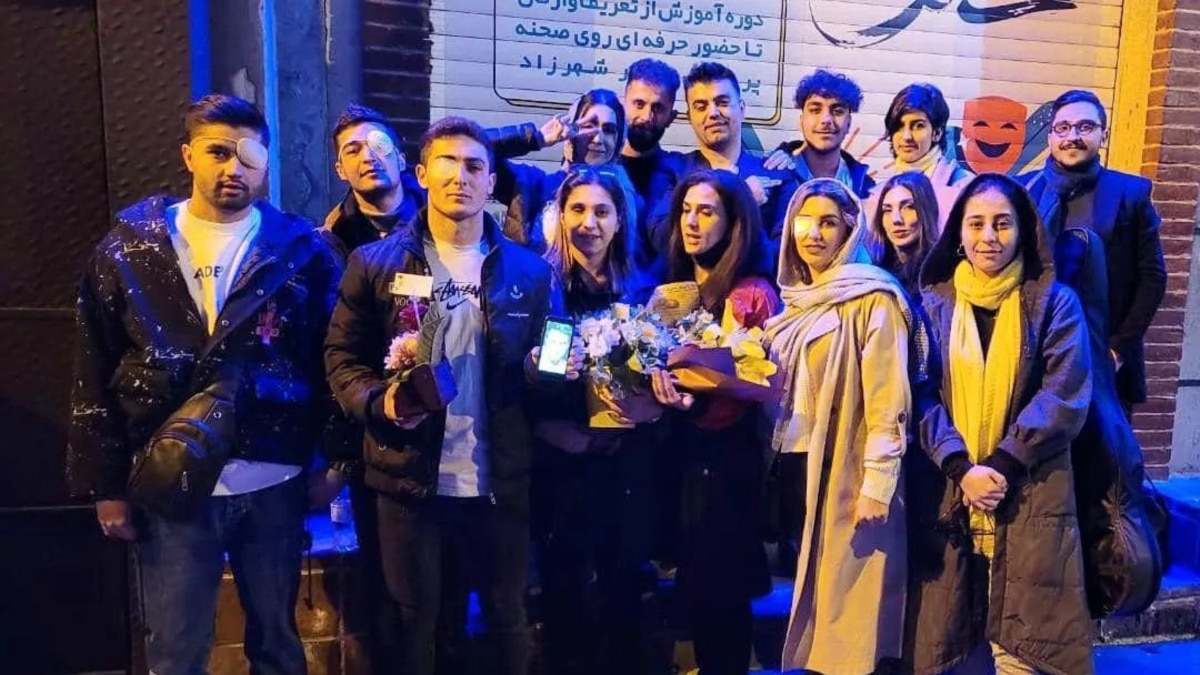 Iranian authorities briefly detained the father of the 22-year-old woman whose death in custody exactly a year ago sparked a year of dramatic anti-regime protests that have persisted despite a brutal crackdown.
Amjad Amini, the father of the late Mahsa Amini, was arrested outside his home on September 16 and taken to the intelligence ministry in his hometown of Saghez for questioning, RFE/RL's Radio Farda has learned.
Sources close to the matter later told Radio Farda that Amjad Amini was sent home after questioning, but was told that he and other members of his family were not allowed to leave their house for the day.
He was told that he and his family were not allowed to leave their house today.
Their house was surrounded by security forces who blocked the street to ward off public signs of dissent.
Meanwhile, Iranian state media reported the arrests of groups accused of plotting disruption or contributing to "hostile media" on the anniversary, and the Iranian president preceded the day by meeting the families of soldiers who have reportedly been killed since the start of the unrest.
The IRNA news agency said authorities arrested an undisclosed number of people belonging to groups "planning to sow chaos" or contributing to stories intended for "hostile media", AFP reported.
It identified three regions of Iran – the northwest, the south and Amini's home province of Kurdistan – where arrests were made.
IRNA reported on September 16 that a fire was started by inmates burning their clothes in a room in Qarchak prison, near Tehran. The fire was quickly extinguished by guards, and it was not immediately clear whether it was a protest related to the anniversary of Amini's death.
IRNA also said that President Ebrahim Raisi met on September 15 in the northeastern city of Mashhad with "the families of security defenders", including two members of the Basij paramilitary forces killed while attempted to disperse a demonstration in November.
Both deaths were blamed on Majid Reza Rahnavard, who was among seven people officially executed by Iranian authorities for their alleged participation in the protests.
Security appeared to be tight in many cities across Iran on the first anniversary of the death of Kurdish-Iranian Amini, after a night of scattered protests condemning the supreme leader and demanding women's rights.
Parts of the capital, Tehran, and major cities like Mashhad in the northeast and Shiraz in the south saw protesters defy the crackdown late on September 15, chanting slogans such as "Death to the dictator!" and "Woman, life, freedom!"
Amini's death last year after eyewitnesses reported she was beaten while detained in Tehran by Iranian morality police and signs of a cover-up sparked anger that represents the most great public threat to the Iranian religious regime for more than a decade.
Rights groups say the ensuing crackdown killed more than 500 people and many others were jailed or given long prison terms.
Police and security forces have carried out raids and other shows of force in recent weeks and have warned Amini's family and others to avoid celebrating the anniversary or face serious consequences. .
Yet by the end of September 15, there were signs of protest in at least a dozen neighborhoods in the capital and at least half a dozen cities.
The human rights website Hengav reported that armed troops from the Islamic Revolutionary Guard Corps (IRGC) were stationed around the home of Amini's family in Saghez, his hometown in northwestern Iran. country, where she is also buried. He cited an informed source as saying the security presence included IRGC motorized forces and a large number of soldiers.
Amini's family would have published a text announcing a "traditional and religious ceremony" at her grave, but were threatened and pressured to cancel the call.
Amini died in a hospital in Tehran on September 16, 2022 after falling into a coma following her detention by the orientation patrol which enforces moral laws, including a strict dress code for women, which was the subject of protests since the first days following the Islamic Revolution of 1979.
An official report suggests she died of heart failure linked to a previous illness, but eyewitnesses reported seeing her beaten and her family said her body showed signs of violence.
The Kurdpa website published a video showing security forces around the Amini family home.
Persian-language social media was filled with videos and images of alleged protest actions across the country, many of which were roadblocks or other forms of nighttime disruption.
Videos showed a group of cars blocking roads and honking their horns in the town of Baneh in Kurdistan province.
The town of Marivan also saw scattered protests in parts of the town on September 15, despite the widespread deployment of security forces. Protesters set fires in some areas and chanted protest slogans.
In the town of Abdanan in Ilam province, security forces failed to stop a group of protesters from lighting a fire in the streets.
In the town of Piranshahr in West Azerbaijan province, a group of people honked horns and created roadblocks.
In Mahabad, revolutionary chants could be heard over the loudspeakers of several mosques.
Hengav cited protest rallies in a handful of other towns, including Abdanan, Kermanshah, Marivan and Sanandaj.
Human Rights Watch (HRW) has described Iranian authorities as having created a "strangulation of dissent" in recent weeks amid an "intensified crackdown" aimed at stifling peaceful expression in the run-up to the September 16 anniversary. . The group cited "intimidation, arrests, prosecutions and trials against activists, artists, dissidents, lawyers, academics, students and family members of those killed during the 2022 protests ".
The United States introduced new sanctions against more than two dozen individuals and entities linked to Iran's "violent suppression" of the Amini protests, the US Treasury Department said on September 15.
Britain announcement a similar movement.
Protests marking the anniversary also took place on September 16 in several foreign cities, including London, Vienna, Berlin, Rome and Toronto.
On September 15, Iran lashed out at the United States for what a Foreign Ministry spokesperson called an "illegal" decision to introduce new sanctions.
Ministry spokesperson Nasser Kanani denounced in a statement "illegal and undiplomatic actions" and complained of "interventionist actions and declarations and ridiculous and hypocritical demonstrations" of international support for the demonstrators, reported the AFP.
Addressing EU leaders, he said "non-constructive behavior… does not serve their interests."
Imprisoned Iranian human rights activist Narges Mohammadi said in a message from Evin prison that the anniversary of Amini's death symbolizes "the theocratic authoritarian regime's oppression against Iranian women."
She said the Women, Life, Freedom movement, which erupted almost a year ago, is a testament to the resilience of protesters and the decline of the authority of the "theocratic authoritarian regime."
With a report from AFP