Sports News
Brutal news for Melbourne Cup champion jockey Damien Oliver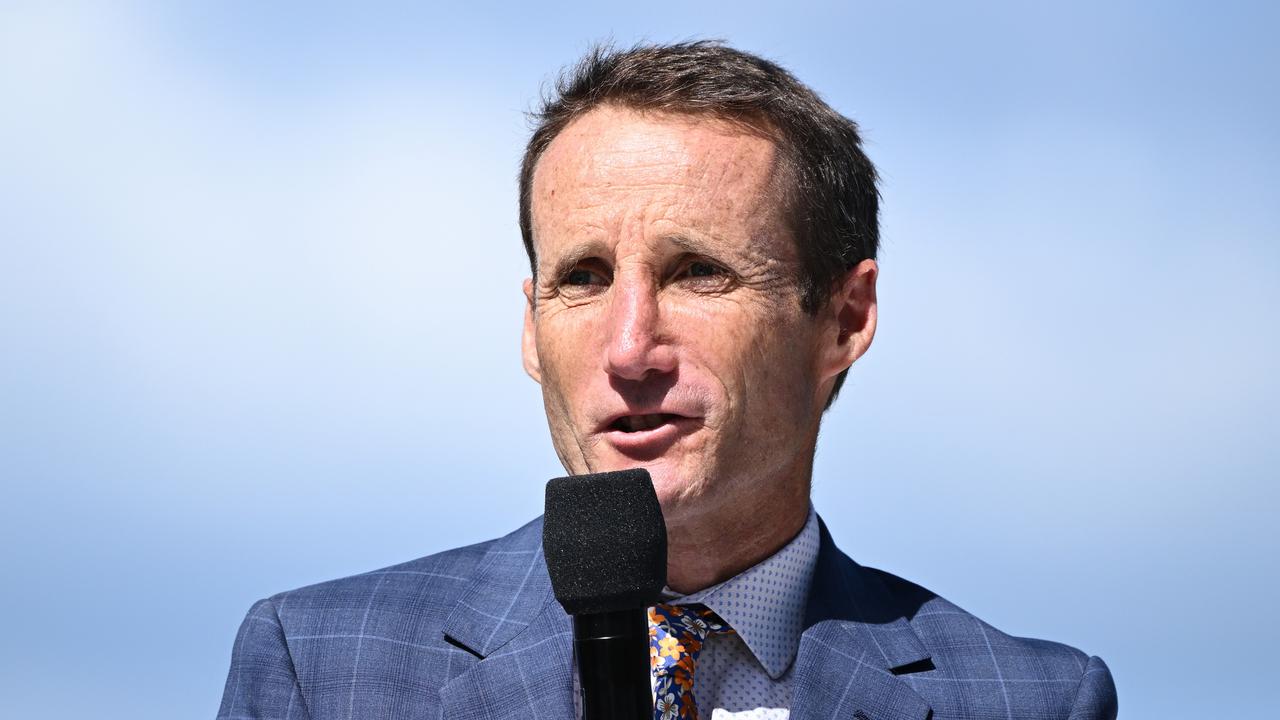 Champion jockey Damien Oliver's hopes of a fairytale finish in the Melbourne Cup have taken another blow with Racing Victoria veterans giving a dismal assessment of Cup runner Alenquer.
Oliver hopes his run will recover for Tuesday's 3,200m race, but the $101 outsider is now even more uncertain following an assessment from Racing Victoria on Monday morning.
The six-year-old gelding was injured after sustaining a bruise from a stone while doing trackwork.
Stream 50+ sports live and on-demand with Kayo. Sign up now and start streaming instantly >
All eyes were on Alenquer during mandatory pre-race inspections on Monday morning, and the horse's condition was the first announcement made by Racing Victoria.
RV announced the horse was not scratched, but connections will have to wait until Tuesday morning to find out if the horse will be allowed to compete in the $8 million Cup.
Racing Victoria said Alenquer "continued to show signs of pain in his near forefoot following the stone bruise that was reported (Sunday)".
"Alenquer will be re-examined by RV veterinarians on Tuesday morning before the final start time (7:30 a.m.) to determine his fitness to race," they said.
"A further update will be provided on all remaining Melbourne Cup runners on Monday afternoon once the second pre-race veterinary inspections are completed."
Trainer Mike Moroney was still confident about the horse's health on Sunday.
" He looks good. It's minimal," Moroney said.
"It just depends on how long it takes for the bruise to go away. We have 48 hours, so we will see how we proceed. It's just a bruise.
"He's not without luck." I have a great coach who knows how to win the Cup and seems to be getting fit at the right time," Oliver said of Alenquer.
Moroner said it would be fantastic to take part in Oliver's final race.
"It would be great to be part of her fairy tale, wouldn't it." You don't mind being a part of it. He's had 31 races and I've had 24 runners, so we're both seasoned.
Considered one of the greatest Australian jockeys of all time, Oliver won the Melbourne Cup three times with Doriemus (1995), Media Puzzle (2002) and Fiorente (2013).
The 52-year-old's victory aboard Media Puzzle was the most famous of his career, as Oliver saluted the heavens as he passed the post in honor of his brother Jason, who died in a track fall .
Oliver is in good form, having scored two Derby Day victories, including steering Kalapour to victory in the Archer Stakes to secure a place in the Melbourne Cup.
This year's Melbourne Cup was to be Oliver's 32nd and final appearance in this great race.
Addressing the Sun Herald Earlier this year, after announcing his retirement, Oliver was eager to compete in the Melbourne Cup again.
"It's nice to have one on my last dance, you might call it," he said.
"It's much better to be a part of it than to watch from the sidelines." You have a better chance of winning it if you enter…so it will be great to be a part of.
"Obviously winning the Melbourne Cup completely changes my life and winning it three times is very special to me.
"They are all favorites, it's a bit like your children, it's difficult to separate them. They all left us with good memories for different reasons.
"The last one, ten years ago, in Fiorente, was obviously memorable, riding the first Cup winner of Gai.
"But winning Media Puzzle will always be exceptionally special to me, it was a very emotional moment."
The Melbourne Cup takes place on Tuesday at 3:00 p.m. AEDT.