Business News
Australian Prime Minister Albanese pledges to 'work constructively with China'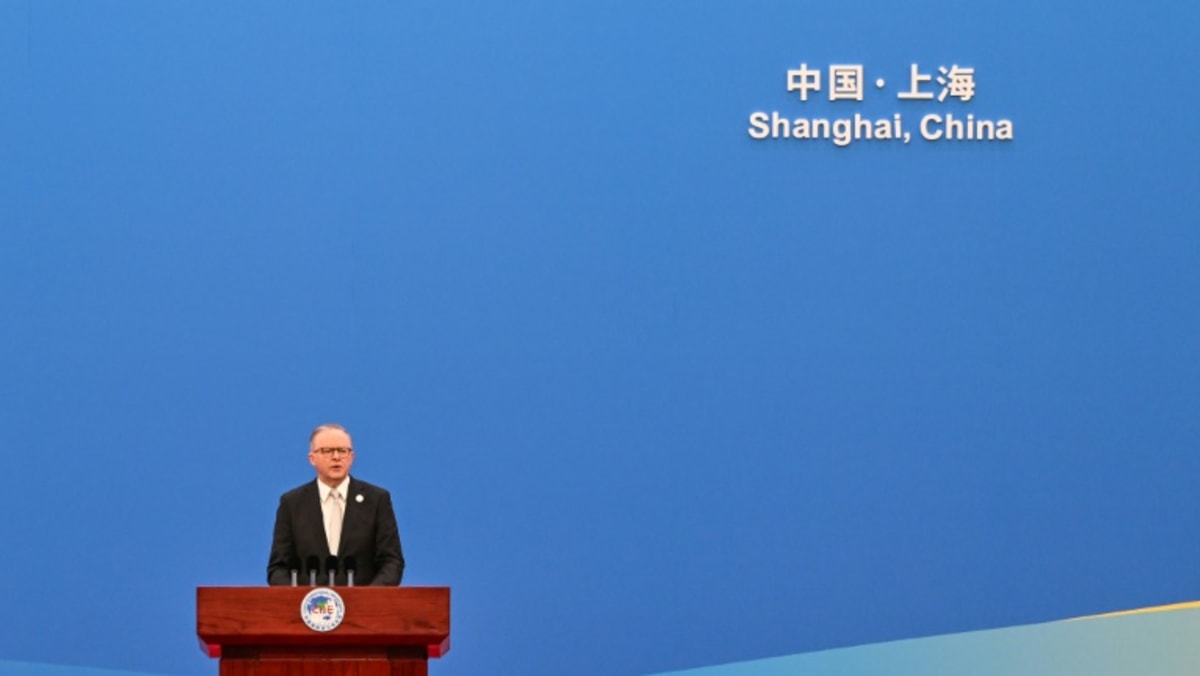 SHANGHAI: Australian Prime Minister Anthony Albanese on Sunday (November 5) pledged to "work constructively" with China as the two countries seek to thaw their relations.
Albanese was speaking at the opening of the China International Import Expo (CIIE) in Shanghai, the first full day of a high-level state visit to his country's largest trading partner.
"Constructive economic engagement between countries helps build relationships… which is why the government I lead will continue to work constructively with China," Albanese said in a speech.
The Prime Minister will spend four days in China, splitting his time between Shanghai and Beijing.
It's the first such visit by an Australian leader in seven yearswith the two countries seeking to patch things up after a diplomatic row that affected billions of dollars in trade.
Albanese's administration has sought to establish friendlier ties with China, while opposing Beijing's growing influence in the Pacific.
The Prime Minister said on Sunday that the development of the Asia-Pacific region was "the prism through which we see much of the future" and that "Australia's relationship with China is a key part of everything that ".
He praised a "mature relationship" between Beijing and Canberra, "energized by the complementary nature of our economies".
China's Foreign Ministry said Albanese would meet Chinese leaders and "have an in-depth exchange of views on bilateral issues as well as international and regional issues of common concern."
"A healthy and stable China-Australia relationship is in line with the fundamental interests of the two countries and people," ministry spokesperson Wang Wenbin said.
This bonhomie constitutes a radical change in tone compared to three years ago, when bilateral relations were deeply frozen.
China imposed punitive tariffs on a range of Australian products in 2020 after the conservative government in Canberra excluded tech giant Huawei from 5G contracts and called for an investigation into the origins of COVID-19.
But under Albanese's liberal administration, those tariffs were lifted and Beijing also indicated it would abolish similar sanctions on Australian wine.
LARGE TRADE SHOW
Albanese was among a handful of heads of state present at the opening of the CIIE, an event billed by Beijing as a platform for international economic cooperation, although foreign business groups have complained about the lack of substance of the agreements it generates.
Organizers say more than 3,400 exhibitors will participate in the sixth annual CIIE, which runs through Friday and will be the first edition of the show to take place since China eased strict pandemic travel controls.
It also comes as foreign business confidence weakens in the world's second-largest economy, with U.S. and European chambers of commerce warning in recent months that companies are increasingly looking to shift investment away from China.
Premier Li Qiang told guests at the expo on Sunday that China is determined to open up and increase market access for international investors.
"China sincerely wishes to work with other countries to meet each other halfway and achieve mutual achievements on a grand opening stage," Li said at the opening of the exhibition.
But Carlo D'Andrea, vice president of the European Union Chamber of Commerce in China, told reporters in Shanghai on Friday that "the CIIE in its current form is just smoke and mirrors, and that it has become a political spectacle which stands out as a commercial demonstration. fair".
He said members of the EU Chamber of Commerce had complained about the logistical difficulties and high costs of attending the show, when visitors were largely from government ministries rather than potential buyers.
The percentage of EU Chambers members participating in the CIIE has fallen from 42 percent to 32 percent since the show's first year in 2018, according to the results of a survey released by the group on Friday.