World News
Arab, Muslim leaders demand immediate end to Gaza war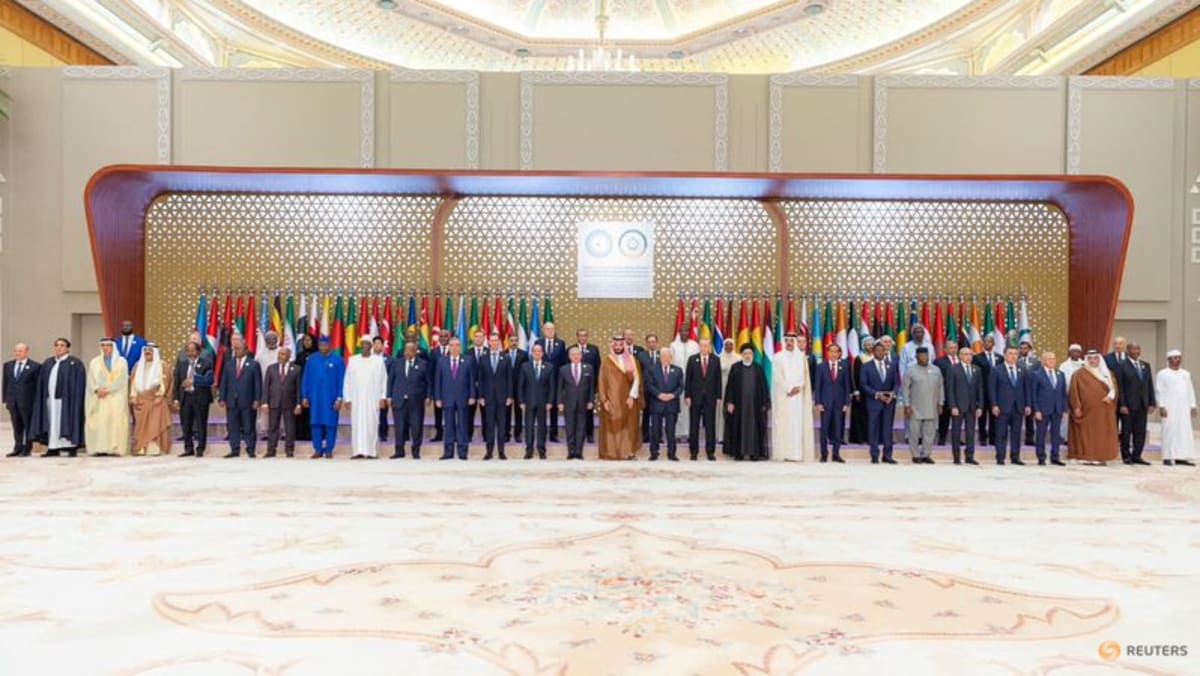 DIFFERENT APPROACHES
Fighting intensified overnight Saturday near overcrowded hospitals in Gaza City, Palestinian officials said.
A baby died in an incubator at Gaza's largest hospital after a power outage, and a patient in intensive care was killed by an Israeli shell, the Palestinian Health Ministry said.
The war has upended traditional alliances in the Middle East, as Riyadh has engaged more closely with Iran, rebuffed U.S. pressure to condemn Hamas and suspended plans to normalize relations with Israel.
Raisi's trip to Saudi Arabia is the first by an Iranian head of state in more than a decade. Tehran and Riyadh formally ended years of hostility under a China-brokered deal in March.
Erdogan called for an international peace conference to find a permanent solution to the conflict between Israel and the Palestinians.
"What we need in Gaza is not pauses of a few hours, but rather a permanent ceasefire," Erdogan said at the summit.
Qatar's emir said his country, where several Hamas leaders are based, was seeking to mediate the release of the Israeli hostages and hoped a humanitarian truce would be reached quickly.
"How long will the international community treat Israel as if it is above international law?" He asked.
Indonesian President Joko Widodo, the country with the world's largest Muslim population, said "the Indonesian hospital in northern Gaza continues to be the target of Israeli attacks and is running out of fuel."
He said a way must be found to get Israel to cease fire immediately, adding: "The Organization of Islamic Cooperation must use all fronts to hold Israel accountable for the humanitarian atrocities it has committed." ".
Saudi Foreign Minister Prince Faisal bin Farhan told reporters that there could be no discussions about the future of Gaza except "discussions about an immediate ceasefire."
The summit also demanded an end to the siege of Gaza, access for humanitarian aid and a halt to arms sales to Israel.
The kingdom was due to host two extraordinary summits, that of the Organization of Islamic Cooperation and that of the Arab League, on Saturday and Sunday, but opted for a joint summit due to the "extraordinary" situation in Gaza, the ministry said Saudi Foreign Affairs.
Hamas urged the summit to make "a historic and decisive decision and act to immediately end Zionist aggression."
Some Arab countries, led by Algeria, have called for a complete break in diplomatic relations with Israel, two delegates told Reuters.
Other Arab countries that established diplomatic ties with Israel backed away, emphasizing the need to keep contacts open with Netanyahu's government, they said.
At a news conference in Tel Aviv, Israeli Prime Minister Benjamin Netanyahu urged Arab leaders to "stand up against Hamas."
"It only brought two things to the Gaza Strip: poverty and blood," Netanyahu said. "Hamas is an integral part of the terrorist axis led by Iran and this axis of terror and hatred endangers the entire world and the entire Arab world."