World News
Adam Johnson: Ice hockey player's jersey number retired during memorial match held in his memory
A memorial ice hockey match was played in Nottingham for Adam Johnson, the player who died after his neck was sliced ​​by a skate.
His team, the Nottingham Panthers, returned to the ice on Saturday for the first time since his death on October 28.
Johnson was hit in the neck by an opposing player's skate during an away game against the Sheffield Steelers.
A man was arrested on suspicion of manslaughter and was later released on bail.
The Panthers and their opponents, Manchester Storm, wore special jerseys for the memorial match, which were then to be drawn.
As the players took to the ice at Motorpoint Arena, the sold-out crowd chanted Johnson's name.
Once the lights went out, his photo was displayed on the main scoreboard above the rink.
The words "forever our 47" were displayed in honor of his jersey number, which is in the process of being retired.
The players tapped their sticks on the ice to the applause of the crowd.
Fans chanted Johnson's name in the 47th minute of the match.
Fans continued to pay their respects outside Motorpoint Arena to Johnson, who also played with the Pittsburgh Penguins, joining the Panthers ahead of the 2023-24 season.
An inquest into his death was opened and adjourned on November 3.
An autopsy confirmed the Minnesota-born star died from a fatal neck injury.
Learn more:
Adam Johnson's family 'knew he was in trouble'
Neck guards will not be made compulsory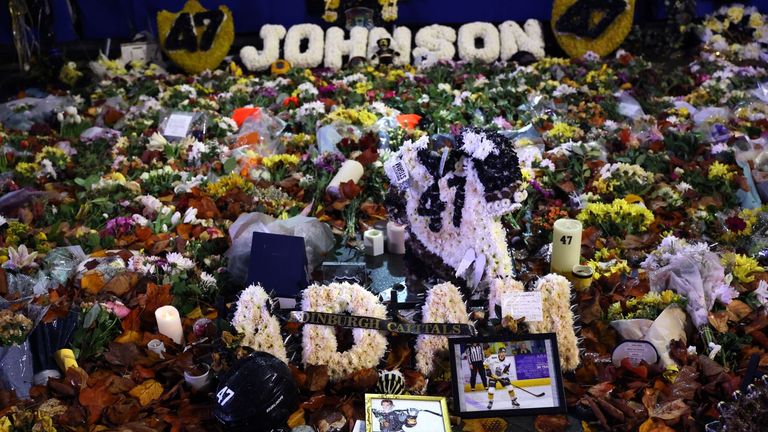 Neck guards are receiving new attention and the English Ice Hockey Association has said they will become compulsory from next year.
But the Elite League, in which the Panthers play, is not under his control.
The Elite Ice Hockey League said it would not make neck guards mandatory, but would "strongly encourage" players and officials to wear them.
All proceeds from the sale of the jerseys will be donated to the Love for Hibbing & Hockey Memorial Fund, which was established to support charitable causes in Johnson's hometown of Hibbing, Minnesota.
The match ended with a score of 4-4.